Klaviyo flows can often be multi-purposeful and multi-faceted containing various different requests and calls to action, all within one flow. A welcome flow for example may contain 'thank you' messages, product educational information and information about the brand however it could also contain replenishment messages, subscription messages and win-back discounts. Whilst it's usually possible to keep this all in one place, it can lead to large complex flows with multiple rules, triggers, delays and splits...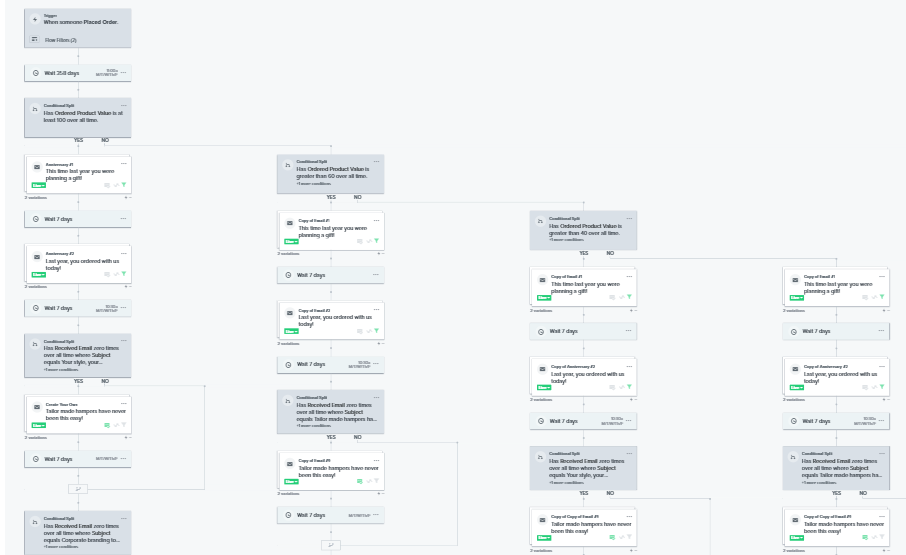 We tend to see the best results when brands keep their flows both simple and have a single unifying purpose. If the aim is to get the customer to rebuy, have a separate flow whereby it's sole purpose is to get that customer to order again. If education is the goal, leave that flow running in the welcome flow. Remember, customers can be in more than one flow at the same time and so whilst they might be receiving educational info in one flow, they might be triggered to upgrade to a subscription in a different flow. Distilling large complex flows into multiple simple purpose driven flows can be beneficial from both a maintenance and reporting POV but also for using Relo triggers.
How to split up for flows when using Relo
Splitting up existing flows is necessary when using the Relo flow triggers. The Repeat Buy and Subscription Converter triggers need to placed at the start of a flow for it to trigger the flow at the correct time. Taking replenishment as an example, we suggest taking these steps:
Identify any existing flows where there is some content contained that may be an attempt to get the customer to order again.




Clone this template following these instructions so that the initial trigger is a Relo reorder trigger. If there are multiple flows, duplicate one flow.
If there are multiple flows, it may be preferable to create a new flow from scratch and then copy over the best email template used in the other flows.
In the new flow, remove any email or time delay that is not related to reordering. This will then leave a simple flow relating solely to the purpose of reordering.




Add the Magic Cart links to the CTA's in the email.
Head back to the original flow and set those reorder emails (that are now duplicated in the new flow) to manual or draft. By doing this, you ensure that you are not sending two of the same message.




By following these instructions you are essentially removing the replenishment messages from one flow and adding them to their own separate flow. If using the Subscription Converter feature, the same process should be replicated.